The 276: Genius spring trends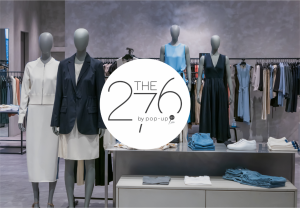 Volume 2, edition 17
#TuesdayTrivia
Which fashion brand made 'Genius Jeans' that became part of the Guinness World Records?
Scroll to the end for the answer.
Taking a Stand without Stumbling
In the past, no one would have expected or even wanted a consumer brand to share their thoughts on social issues, but the world has changed. Silence is no longer the reliable strategy it once was—but speaking up in the wrong way can trigger a painful consumer backlash. Brands are now faced with the increasingly tricky problem of choosing when and how to make their stances known.
Here are five tips for brands to successfully share their support.
Authenticity matters
Avoid bandwagoning
Negative language isn't required
Partner with social media creators
Pick your battles
#ProTip: The best way for brands to share their values is through the actions they take as a business.
The best influencers don't just parrot an existing brand message, they contribute to a brand with everything they bring to the table.
Danielle Wiley, CEO of Sway Group
Just the Data: Spring Dresses
This spring's dress trends offer a bit of romance for the warm months ahead. Babydoll mini dresses, bustier dresses, crochet maxi dresses, and square neck dresses are safe bets–likely to continue growing for another year.
Babydoll mini dresses web searches have increased 197% compared to last year at this time and Gen Z favorite brands like American Eagle and Abercrombie & Fitch are capitalizing on this trend.
Crochet maxi dresses led the spring dress trend last year and are continuing strong with more affordable options rolling out. Searches are up 67% vs. 2021.
Bustier dress web searches are up 53% versus spring 2020 and are anticipated to continue strong throughout the summer.
Finally, square neck dresses with the versatile range of fabrics and styles have seen an 81% increase in web searches.
Take advantage of this trend and host or launch a spring dress pop-up!
#SpacesWanted: Discover Your Next Tenant!
Collingwood, Blue Mountain, Niagara Falls | Seeking kiosk or 2,000 sq. ft. of inline space for ponchos, shawls and other gift items.

Montreal | A beer company is looking to do an activation during the MONTREAL GRAND PRIX 2022. They are looking for a 3,000 sq. ft. streetfront location with windows on Ste. Catherine Street near Peel. Activation will run from June 13-19.

Toronto | Coffee company seeking 200-600 sq. ft. in the downtown core, financial district or along Queen St W.

Toronto | Digital native women's apparel brand is looking for a 1,500 sq. ft. location in tourist areas outside of the GTA, preferably storefront from April-September.
Toronto | Looking for a storefront space on Queen or Dundas Street West for a pop-up art gallery between 1,000-2,000 sq. ft. in size.

Vancouver | Gift set company selling body products, candles, scents and home goods seeking 500-1,000 sq. ft. Malls and storefront spaces of interest.
projeX by pop-up go is a virtual pop-up marketplace and online shopping destination that connects consumers to a diverse variety of small businesses, boutiques, and local retailers, allowing them to discover high-quality, exclusive, and exciting finds. Brands can sell directly to consumers, create virtual pop-up stores, or host digital experiences – all in one place. It's a great way to launch a new product, test a new concept, or build an online presence.
Interested in being one of the first brands on projeX? Apply now!
Have an Interesting Perspective on Your Industry that You'd Like to Share?
Showcase your ideas and discuss what's on your mind by being a guest columnist in our 276 newsletter! With a reach of 20,000 weekly readers and an average open rate of 20%, you'll get the attention of industry leaders directly. 
Email or DM us!
Discover Your Perfect Pop-Up Space! #BrandsWanted
#Kamloops
600 sq. ft. of high exposure space available in dense commercial node of the downtown core.
#Montreal
1,000 sq. ft. of shared space available for pop-ups in Mile End.
#SOHO
2,000 sq. ft. expansive ground floor showroom, generous storage areas and full size basement.
1,300 sq. ft. ground floor retail space and includes a vented commercial kitchen and wood burning fireplace. Close neighbors to this space include Gucci, Louis Vuitton, Christian Dior and other world class brands.
#Toronto
4,000 sq. ft. available on Queen West near Trinity Bellwoods Park.
20,000 sq. ft. available on Bloor Street in Yorkville.
#Vancouver
5,000 sq. ft. (over two levels) of dedicated pop-up space in Burnaby now booking for July 2022. Perfect for brand activations, services launches, event space and more!
What We're Reading
Need Insurance for your Pop-Up? Email or DM us!
#FunFact
43% of US male gamers have been influenced to make offline purchases by brand integration on gaming platforms. Source: 5WPR
Pop-Ups and Pop-Ins in Action
Read about recent and upcoming pop-ups and pop-ins that we love.
#FGF Newsletter
#FGF (Feel Good Friday) is our parent company, 
Zenergy's 
weekly e-newsletter that delivers top headlines and insights directly to your inbox. This consolidation of what's new in marketing, communications, and martech brings together the best industry content in one place.
pop-up go Space Connectors
Landlords: Add properties to the pop-up go site.
Brands/Retailers: Find the perfect pop-up space.
Agencies: Host an integrated activation.
The #TuesdayTrivia answer is Gucci!
The pop-up go team would love to hear from you for all your pop-up needs. info@popupgo.com