The 276: What's your perspective?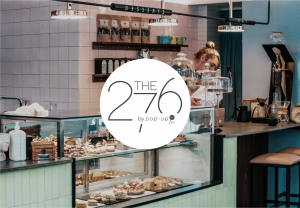 Volume 2, edition 16
#TuesdayTrivia
What comes down but never goes up?
Scroll to the end for the answer.
Report: Digital Experience Benchmark 2022
Contentsquare released their 2022 edition of its Digital Experience Benchmark Report, which looks at over one hundred data points to show industry comparables. Here's an overview of what they found:
Don't get 'channel' vision; customers are everywhere.
Today's consumer is neither chained to one device nor stuck inside. They're shopping on-the-move on mobile (58%), browsing on desktop (39%), and heading back into brick-and-mortar stores.
R-E-S-P-E-C-T; find out what it means to your customers.
In a world of instant gratification, the best customer perk is respect for their time. Focus on delighting your customers, quickly, to entice them to hang around.
Expectations are higher than before.
Today's consumer is clued in, happy to spend time researching the best deal, and likely to bounce if they don't get what they're expecting. This is evidenced with the average website bounce rates increasing from 47% in 2020 to 50% in 2021.
#ProTip: It is imperative to understand exactly how and why shoppers behave the way they do at each stage of their journey (online and in-store). This is the magic ingredient for unlocking the perfect customer experience.
Here are some key eCommerce KPIs for retailers:
eCommerce sites are experiencing 47% bounce rates
Shoppers are spending 52 seconds browsing per page
New users have increased to 51%
Holiday Retail Sales Estimates for 2022
Looking ahead to the 2022 holiday season, eMarketer is forecasting that sales will increase to $1.262 trillion thanks to healthy consumer spending patterns and a more stable supply chain. With brick-and-mortar accounting for $1.026 trillion of that estimate, now is the time to start thinking about booking or hosting holiday pop-ups.
A few key insights:
Holiday 2021's historically strong retail growth stemmed from robust consumer spending, particularly in-store. Physical retail growth rate surpassed eCommerce for the first time on record, as consumers returned to in-person shopping.
A strong labor market and rising wages will give consumers more discretionary income to spend on holiday gifts in 2022.
The 2022 outlook is solid, but retailers will need to adapt to a fundamental realignment of the holiday shopping season.
Two seasons of pandemic-driven holiday shopping will result in lasting changes to the holiday promotional calendar and reset consumer expectations around when to shop for the best deals.
The 2022 holiday season will be longer and flatter, with less concentrated spending during the Cyber Five period.
#SpacesWanted: Discover Your Next Tenant!
Collingwood, Blue Mountain, Niagara Falls | Seeking kiosk or 2,000 sq. ft. of inline space for ponchos, shawls and other gift items.

Montreal | A beer company is looking to do an activation during the MONTREAL GRAND PRIX 2022. They are looking for a 3,000 sq. ft. streetfront location with windows on Ste. Catherine Street near Peel. Activation will run from June 13-19.

Toronto | Coffee company seeking 200-600 sq. ft. in the downtown core, financial district or along Queen St W.

Toronto | Digital native women's apparel brand is looking for a 1,500 sq. ft. location in tourist areas outside of the GTA, preferably storefront from April-September.
Toronto | Looking for a storefront space on Queen or Dundas Street West for a pop-up art gallery between 1,000-2,000 sq. ft. in size.

Vancouver | Gift set company selling body products, candles, scents and home goods seeking 500-1,000 sq. ft. Malls and storefront spaces of interest.
projeX by pop-up go is a virtual pop-up marketplace and online shopping destination that connects consumers to a diverse variety of small businesses, boutiques, and local retailers, allowing them to discover high-quality, exclusive, and exciting finds. Brands can sell directly to consumers, create virtual pop-up stores, or host digital experiences – all in one place. It's a great way to launch a new product, test a new concept, or build an online presence.
Interested in being one of the first brands on projeX? Apply now!
Have an Interesting Perspective on Your Industry that You'd Like to Share?
Showcase your ideas and discuss what's on your mind by being a guest columnist in our 276 newsletter! With a reach of 20,000 weekly readers and an average open rate of 20%, you'll get the attention of industry leaders directly. 
Email or DM us!
Discover Your Perfect Pop-Up Space! #BrandsWanted
#Kamloops
600 sq. ft. of high exposure space available in dense commercial node of the downtown core.
#Montreal
1,000 sq. ft. of shared space available for pop-ups in Mile End.
#SOHO
2,000 sq. ft. expansive ground floor showroom, generous storage areas and full size basement.
1,300 sq. ft. ground floor retail space and includes a vented commercial kitchen and wood burning fireplace. Close neighbors to this space include Gucci, Louis Vuitton, Christian Dior and other world class brands.
#Toronto
4,000 sq. ft. available on Queen West near Trinity Bellwoods Park.
20,000 sq. ft. available on Bloor Street in Yorkville.
#Vancouver
5,000 sq. ft. (over two levels) of dedicated pop-up space in Burnaby now booking for July 2022. Perfect for brand activations, services launches, event space and more!
#FunFact
32% of US adults are interested in shopping via livestreams. Source: Bizrate Insights
What We're Reading
Need Insurance for your Pop-Up? Email or DM us!
TikTok Trends to Watch
TrendAlytics has released their Q1 TikTok Trends to Watch report. This data-driven look at emerging TikTok trends and influencers in fashion unveiled the following popular searches:
Corsets
Currently reigning supreme, corsets are an extreme search volume trend with 300K average weekly searches. After two years of ditching bras and lounging in leggings, many openly welcome this sense of structure in their wardrobes. A presence on the runway this season, designers reinvented this feminine staple by adding leather, sheer exposure, and lace up details.
Y2K Fashion
Characterized by low rise waistbands, baggy jeans, nostalgic accessories, and butterfly clips, Y2K fashion is a TikTok trend that brings us back to Britney Spears, Destiny's Child, and Paris Hilton. Thanks to the virality of the platform, brands like Juicy Couture, Abercrombie & Fitch, Von Dutch, and Ed Hardy are securing their comeback.
Trousers
Inspired by the capsule collection aesthetic of Aritzia and the minimalistic, yet chic style of Djerf Avenue, TikTok users are gravitating toward the effortlessness of trousers. Paired with oversized blazers, white button downs, rib knit tops, and New Balance 550s, tailored trousers make for the perfect work-friendly outfit no longer contained within the walls of an office.
Take advantage of these trends and host a pop-up!
Pop-Ups and Pop-Ins in Action
Read about recent and upcoming pop-ups and pop-ins that we love.
#FGF Newsletter
#FGF (Feel Good Friday) is our parent company, 
Zenergy's 
weekly e-newsletter that delivers top headlines and insights directly to your inbox. This consolidation of what's new in marketing, communications, and martech brings together the best industry content in one place.
pop-up go Space Connectors
Landlords: Add properties to the pop-up go site.
Brands/Retailers: Find the perfect pop-up space.
Agencies: Host an integrated activation.
The #TuesdayTrivia answer is rain!
The pop-up go team would love to hear from you for all your pop-up needs. info@popupgo.com