The 276: Solid as brick-and-mortar retail!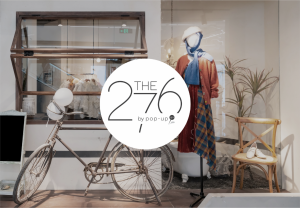 Volume 2, edition 13
#TuesdayTrivia
Which brand is noted as the inventors of running shoes? 
Scroll to the end for the answer.
NRF: Retail Sales Expected to Grow
The National Retail Federation (NRF) issued its annual forecast, anticipating that retail sales will grow 8% to more than $4.86 trillion this year as compared to a 14% annual growth rate in 2021, the highest in more than 20 years. Retail sales are expected to remain strong as the economy opens further in the coming months.
#ProQuote "NRF expects retail sales to increase in 2022, as consumers are ready to spend and have the resources to do so," said NRF President and CEO Matthew Shay.
#SpacesWanted: Discover Your Next Tenant!
Collingwood, Blue Mountain, Niagara Falls | Seeking kiosk or 2,000 sq. ft. of inline space for ponchos, shawls and other gift items.

Montreal | A beer company is looking to do an activation during the MONTREAL GRAND PRIX 2022. They are looking for a 3,000 sq. ft. streetfront location with windows on Ste. Catherine Street near Peel. Activation will run from June 13-19.

Toronto | Coffee company seeking 200-600 sq. ft. in the downtown core, financial district or along Queen St W.

Toronto | Digital native women's apparel brand is looking for a 1,500 sq. ft. location in tourist areas outside of the GTA, preferably storefront from April-September.
Toronto | Looking for a storefront space on Queen or Dundas Street West for a pop-up art gallery between 1,000-2,000 sq. ft. in size.

Vancouver | Gift set company selling body products, candles, scents and home goods seeking 500-1,000 sq. ft. Malls and storefront spaces of interest.
projeX by pop-up go is a virtual pop-up marketplace and online shopping destination that connects consumers to a diverse variety of small businesses, boutiques, and local retailers, allowing them to discover high-quality, exclusive, and exciting finds. Brands can sell directly to consumers, create virtual pop-up stores, or host digital experiences – all in one place. It's a great way to launch a new product, test a new concept, or build an online presence.
Interested in being one of the first brands on projeX? Apply now!
#BeOurGuest: Brick-and-Mortar Retail to Continue to be Important Despite Growth of e-Commerce During the Pandemic
Despite the fact that online shopping has grown significantly over the course of the pandemic, physical retail will continue to be an important part of the business as brands seek to connect with consumers face-to-face.
The death of the physical store has been grossly exaggerated, and even though we may see fewer stores in the future, they are expected to be much more experiential and well-thought-out compared to what we have seen in years past. Stores will become more immersive in terms of the use of technology, and a showroom model will be more common where products will be displayed with the opportunity to also buy online or through other channels.
Shoppers have shown an appetite for the physical spaces and after lockdowns, stores and malls became busy quickly. It is clear that humans are seeking physical experiences.
Prior to the pandemic, the International Council of Shopping Centers conducted a study that found that when a retailer with an online presence opens a new physical store in a market, there is also a boost in online sales. This would appear to indicate that consumers react to brands with a physical presence and will shop with them beyond the typical physical channels. Regardless, it is apparent that physical retail is important to the overall sales of brands.
One thing we are seeing more of, partly because of the pandemic, is pop-up retail and temporary leases where retailers are taking physical retail space for a temporary period of time in order to activate them and meet with consumers in-person. Pop-up facilitators, such as Toronto-based 
pop-up go
, are saying that business is up in Canada and the US.
One important thing to note is that we are seeing a significant number of international brands looking at entering the Canadian market by opening stores in 2022. This is encouraging news and it also shows the ongoing importance of physical retail spaces to retailers globally.
Looking into the future, we can expect physical retail to be an important part of what we will see in our cities and communities. One consistent thing about retail is change. In the future, technology will be integrated further into the physical retail experience while consumers continue to also have options online and otherwise. That means in a few years from now, your local store might look a little different and will, hopefully, have more elements to make it experiential.
This edition's #BeOurGuest contributor is:
Craig Patterson
Founder and Co-Editor-in-Chief
Retail Insider
Have an Interesting Perspective on Your Industry that You'd Like to Share?
Showcase your ideas and discuss what's on your mind by being a guest columnist in our 276 newsletter! With a reach of 20,000 weekly readers and an average open rate of 20%, you'll get the attention of industry leaders directly. 
Email or DM us!
Discover Your Perfect Pop-Up Space! #BrandsWanted
#Kamloops
600 sq. ft. of high exposure space available in dense commercial node of the downtown core.
#Montreal
1,000 sq. ft. of shared space available for pop-ups in Mile End.
#SOHO
2,000 sq. ft. expansive ground floor showroom, generous storage areas and full size basement.
1,300 sq. ft. ground floor retail space and includes a vented commercial kitchen and wood burning fireplace. Close neighbors to this space include Gucci, Louis Vuitton, Christian Dior and other world class brands.
#Toronto
4,000 sq. ft. available on Queen West near Trinity Bellwoods Park.
20,000 sq. ft. available on Bloor Street in Yorkville.
#Vancouver
5,000 sq. ft. (over two levels) of dedicated pop-up space in Burnaby now booking for July 2022. Perfect for brand activations, services launches, event space and more!
What We're Reading
Need Insurance for your Pop-Up? Email or DM us!
Pop-Ups and Pop-Ins in Action
Read about recent and upcoming pop-ups and pop-ins that we love.
pop-up go Space Connectors
Landlords: Add properties to the pop-up go site.
Brands/Retailers: Find the perfect pop-up space.
Agencies: Host an integrated activation.
The #TuesdayTrivia answer is Adidas!
The pop-up go team would love to hear from you for all your pop-up needs. info@popupgo.com