The 276: Let's Talk at Shoptalk and Reality in Retail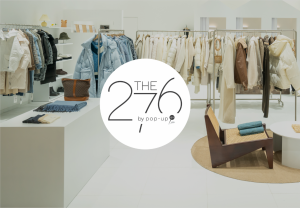 Volume 2, edition 12
#TuesdayTrivia
What is the name of the Roman goddess of Spring?
Scroll to the end for the answer.
Consumers Embrasing Extended Reality
Extended Reality (XR) experiences first hit the mainstream as an innovation of video game technology. Now, marketers are leveraging XR's potential—including Augmented Reality (AR) and virtual reality (VR)—to increase consumer engagement with their brands. Immersive XR campaigns help bring brand experiences close to real life ones from practically anywhere. Plus, with virtual conferencing like Zoom and Teams now commonplace for social and work interactions, consumer expectations have taken a sharp digital turn. No wonder brands are beginning to create XR experiences that appeal to consumers' practical, adventurous, and even artistic sides.
Extended reality encompasses various technology capabilities, including:
Augmented Reality (AR): technology that superimposes a computer-generated image of the real world.
Virtual Reality (VR): a computer-generated simulation of a 3-D image or environment that a user interacts with in seemingly real or physical ways using special equipment, such as a helmet with a screen inside or gloves fitted with sensors.
Mixed Reality (MR): a combination of AR and VR elements to create a blended view of digital objects and the real world.
#ProTip: The most effective and popular XR marketing campaigns all demonstrate clear intentions to educate, entertain or engage their target audience with experiences.
#FunFact
In the US, 165 million people said that they would use some form of XR at least once per month this year.  That's more than 40% of the population!  Source: eMarketer
#SpacesWanted: Discover Your Next Tenant!
Collingwood, Blue Mountain, Niagara Falls | Seeking kiosk or 2,000 sq. ft. of inline space for ponchos, shawls and other gift items.

Montreal | A beer company is looking to do an activation during the MONTREAL GRAND PRIX 2022. They are looking for a 3,000 sq. ft. streetfront location with windows on Ste. Catherine Street near Peel. Activation will run from June 13-19.

Toronto | Coffee company seeking 200-600 sq. ft. in the downtown core, financial district or along Queen St W.

Toronto | Digital native women's apparel brand is looking for a 1,500 sq. ft. location in tourist areas outside of the GTA, preferably storefront from April-September.
Toronto | Looking for a storefront space on Queen or Dundas Street West for a pop-up art gallery between 1,000-2,000 sq. ft. in size.

Vancouver | Gift set company selling body products, candles, scents and home goods seeking 500-1,000 sq. ft. Malls and storefront spaces of interest.
projeX by pop-up go is a virtual pop-up marketplace and online shopping destination that connects consumers to a diverse variety of small businesses, boutiques, and local retailers, allowing them to discover high-quality, exclusive, and exciting finds. Brands can sell directly to consumers, create virtual pop-up stores, or host digital experiences – all in one place. It's a great way to launch a new product, test a new concept, or build an online presence.
Interested in being one of the first brands on projeX? Apply now!
Have an Interesting Perspective on Your Industry that You'd Like to Share?
Showcase your ideas and discuss what's on your mind by being a guest columnist in our 276 newsletter! With a reach of 20,000 weekly readers and an average open rate of 20%, you'll get the attention of industry leaders directly. 
Email or DM us!
Discover Your Perfect Pop-Up Space! #BrandsWanted
#Kamloops
600 sq. ft. of high exposure space available in dense commercial node of the downtown core.
#Montreal
1,000 sq. ft. of shared space available for pop-ups in Mile End.
#SOHO
2,000 sq. ft. expansive ground floor showroom, generous storage areas and full size basement.
1,300 sq. ft. ground floor retail space and includes a vented commercial kitchen and wood burning fireplace. Close neighbors to this space include Gucci, Louis Vuitton, Christian Dior and other world class brands.
#Toronto
4,000 sq. ft. available on Queen West near Trinity Bellwoods Park.
20,000 sq. ft. available on Bloor Street in Yorkville.
#Vancouver
5,000 sq. ft. (over two levels) of dedicated pop-up space in Burnaby now booking for July 2022. Perfect for brand activations, services launches, event space and more!
What We're Reading
SMS Marketing: 98% Open Rate
You may have experienced that mobile marketing – including texts, emails, websites, and apps – is readily utilized to reach prospective customers. But did you know that the most popular strategies integrate direct messaging with social users through SMS, Facebook Messenger, and WhatsApp? If you didn't, now you do!
SMS marketing is incredibly popular because of its 98% open rate vs. an average of 22% using email marketing
. This relatively affordable approach lets you instantly reach customers wherever they are. Not only that, it can also be customized and easily automated.
While specific strategies will vary, the following are two main categories outlining the types of SMS messages you can use as part of your campaign:
Promotional messages including sales, discounts, new product announcements, etc.
Transactional messages such as purchase confirmations and delivery information.
Need Insurance for your Pop-Up? Email or DM us!
ShopTalk 2022: Book a Meeting
housands of professionals attend Shoptalk each year. From established retailers and brands, startups, tech companies, to investors, real estate operators, media, and more they come to learn, collaborate and create the future of retail during four days of curated meetings, productive networking and facilitated social engagements.
pop-up go's Founder and Chief Connector Linda Farha will be onsite.
Pop-Ups and Pop-Ins in Action
Read about recent and upcoming pop-ups and pop-ins that we love.
pop-up go Space Connectors
Landlords: Add properties to the pop-up go site.
Brands/Retailers: Find the perfect pop-up space.
Agencies: Host an integrated activation.
The #TuesdayTrivia answer is Flora!
The pop-up go team would love to hear from you for all your pop-up needs. info@popupgo.com