The 276: It's all about aesthetics.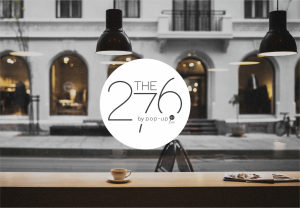 Volume 2, edition 11
#TuesdayTrivia
What city dyes its river green every St. Patrick's Day?
Scroll to the end for the answer.
#TrendAlert: Design Aesthetics of Fall 2022 Runway
Future Craft
Innovative construction techniques and custom-made prints brought futuristic craftsmanship to the fall 2022 runways. At Tod's, Walter Chiapponi introduced "technical decorativism", working knitwear into a diamond pattern and adding sharp pleats to simple A-line dresses.
Effortless Exposure
Cut out silhouettes, strappy bodysuits, and revealing dresses were central to the runway this fall. Nensi Dojaka showcased fusing lingerie and daywear by layering sheer, strappy materials in a celebration of the female body.
#FunFact
64% of consumers want companies to make coupons and discounts easier to find. Source: Vericast
#SpacesWanted: Discover Your Next Tenant!
Collingwood, Blue Mountain, Niagara Falls | Seeking kiosk or 2,000 sq. ft. of inline space for ponchos, shawls and other gift items.

Montreal | A beer company is looking to do an activation during the MONTREAL GRAND PRIX 2022. They are looking for a 3,000 sq. ft. streetfront location with windows on Ste. Catherine Street near Peel. Activation will run from June 13-19.

Toronto | Coffee company seeking 200-600 sq. ft. in the downtown core, financial district or along Queen St W.

Toronto | Digital native women's apparel brand is looking for a 1,500 sq. ft. location in tourist areas outside of the GTA, preferably storefront from April-September.
Toronto | Looking for a storefront space on Queen or Dundas Street West for a pop-up art gallery between 1,000-2,000 sq. ft. in size.

Vancouver | Gift set company selling body products, candles, scents and home goods seeking 500-1,000 sq. ft. Malls and storefront spaces of interest.
projeX by pop-up go is a virtual pop-up marketplace and online shopping destination that connects consumers to a diverse variety of small businesses, boutiques, and local retailers, allowing them to discover high-quality, exclusive, and exciting finds. Brands can sell directly to consumers, create virtual pop-up stores, or host digital experiences – all in one place. It's a great way to launch a new product, test a new concept, or build an online presence.
Interested in being one of the first brands on projeX? Apply now!
Have an Interesting Perspective on Your Industry that You'd Like to Share?
Showcase your ideas and discuss what's on your mind by being a guest columnist in our 276 newsletter! With a reach of 20,000 weekly readers and an average open rate of 20%, you'll get the attention of industry leaders directly. 
Email or DM us!
Shoptalk 2022: Book a Meeting
Thousands of professionals attend Shoptalk each year. From established retailers and brands, startups, tech companies, to investors, real estate operators, media, and more they come to learn, collaborate and create the future of retail during four days of curated meetings, productive networking and facilitated social engagements.
Discover Your Perfect Pop-Up Space! #BrandsWanted
#Kamloops
600 sq. ft. of high exposure space available in dense commercial node of the downtown core.
#Montreal
1,000 sq. ft. of shared space available for pop-ups in Mile End.
#SOHO
2,000 sq. ft. expansive ground floor showroom, generous storage areas and full size basement.
1,300 sq. ft. ground floor retail space and includes a vented commercial kitchen and wood burning fireplace. Close neighbors to this space include Gucci, Louis Vuitton, Christian Dior and other world class brands.
#Toronto
4,000 sq. ft. available on Queen West near Trinity Bellwoods Park.
20,000 sq. ft. available on Bloor Street in Yorkville.
#Vancouver
5,000 sq. ft. (over two levels) of dedicated pop-up space in Burnaby now booking for July 2022. Perfect for brand activations, services launches, event space and more!
What We're Reading
#ProTip: Top Tactics for Instagram Growth
Nearly 50% of marketers polled by HubSpot believe Instagram provides the highest return among social platforms, while 79% have used Instagram's shopping tools and 92% plan to maintain or boost their investment in IG Stories this year.
Here are seven tips:
Leverage different content formats. Video and carousel posts are the most engaged with type of content on Instagram, especially when compared to single images.
Post at the right times. When you post on Instagram, it's important to so at a time that allows you to meet your audiences when they're online and more likely to engage.
Aim to be consistent. Growing your profile is tied to how much you post, so aim to post consistently. Four to six posts per week is the sweet spot.
Partner with influencers that are relevant to your brand. Efforts are worthwhile if you partner with influencers that are more connected to their audience and community over follower count.
Monitor your engagement. The most impactful way to grow your engagement is to learn exactly what works and what doesn't.
Write strong, compelling captions. Always include captions on your posts, doing so can increase your engagement.
Use hashtags. Using hashtags helps you get your content seen by people who don't follow you but surf the hashtags you use on their Explore page.
Need Insurance for your Pop-Up? Email or DM us!
Pop-Ups and Pop-Ins in Action
Read about recent and upcoming pop-ups and pop-ins that we love.
pop-up go Space Connectors
Landlords: Add properties to the pop-up go site.
Brands/Retailers: Find the perfect pop-up space.
Agencies: Host an integrated activation.
The #TuesdayTrivia answer is the Chicago River!
They use 40 pounds of green vegetable dye to turn it green.
The pop-up go team would love to hear from you for all your pop-up needs. info@popupgo.com